Stick Figure Badminton 2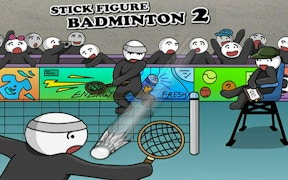 Stick Figure Badminton 2
Welcome to the electrifying world of Stick Figure Badminton 2, a game that successfully combines the adrenaline-rush of sports with the unique charm of stickman games. As a sequel, it brings more to the court, offering a greater selection of playable characters and improved gameplay dynamics.
One of the highlights of Stick Figure Badminton 2 is its wide array of playable characters. With eight different options, each with their own distinct stats, you can choose a character that aligns best with your playing style. It's like being in a candy store - there's surely something for everyone!
Stick Figure Badminton 2 stands out in the crowded realm of ball games. It goes beyond conventional gameplay by introducing physics-based actions that make each match unpredictable and thrilling. It's not just about getting the shuttlecock over the net; you need strategy to win in this game.
Moreover, this 2 player games series' sequel has certainly upped its game! As it allows you to compete against real-life opponents or AI-controlled players, it promises an engaging gaming experience whether you want to show off your skills or practice new strategies.
So why wait? Grab a virtual racket and jump into this stickman universe! If you're a fan of sports games or have enjoyed playing other stickman and ball games previously, you will not want to miss out on Stick Figure Badminton 2. An epic showdown awaits!
The real beauty lies in this game's simplicity combined with its addictive gameplay. The stickman design pulls no punches - its charm is undeniable and an absolute delight for fans of this genre. And for those who enjoy fierce competition, Stick Figure Badminton 2 will serve as your digital arena where every match is more than just a game; it's a battle for glory!
What are the best online games?