Steve and Alex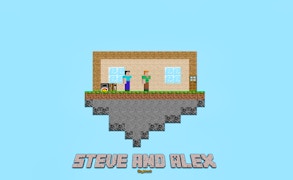 Steve and Alex
Description
In the adventurous game Steve and Alex, you step into the shoes of Steve. The objective is to rescue Alex, who is trapped and needs your help. Amongst perilous obstacles, you are tasked to collect 10 pieces of obsidians to create a portal known as "alexsin". Your journey is fraught with danger - be it tripping over and falling or encountering exploding TNTs. Remember, every action has consequences!
How to play
The controls in the game are simple and intuitive. Use the arrow keys on your keyboard to move Steve around in search of the obsidians. To collect them, simply move over each piece. Once all 10 pieces are collected, navigate towards the alexsin portal and complete your mission! But beware of TNTs and deadly falls - they can cost you a life.
Tips and Tricks
Mastering precise movements will greatly increase your success in this game. Observe patterns in TNT locations - they provide valuable clues about safe paths. While collecting obsidians, prioritize avoiding dangers over speed – it's better to be slow and safe than fast and fatal.
Features
Easy Controls: Simple arrow key movements make this game easy for all players.
Puzzle Elements: Collecting obsidian pieces adds an exciting twist of puzzle-solving elements.
Dangerous Obstacles: Thrilling TNTs and deadly falls add suspense to your quest.
Tale of Rescue: Immerse yourself in a love story that drives your character's brave rescue mission.
What are the best online games?