Steve AdventureCraft Nether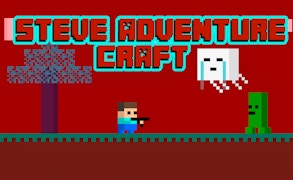 Steve AdventureCraft Nether
Description
Take on the role of a fearless adventurer in Steve AdventureCraft Nether. This game delivers an enthralling journey through a 10-level nether region populated with monsters, zombies, and other fantastical creatures. You'll encounter both friends and foes alike, from friendly animals you can collect, to monsters that pose a significant threat. With pixel-style graphics enhancing gameplay experience, you'll need all your skills to fight your way through and emerge victorious!
How to Play
The game controls for this adventure are conveniently intuitive. Use WASD keys for movement, and the 'F' key for actions like picking up animals or attacking foes. If you are playing on mobile, the screen has touch-based controls for ease of use. The aim is simple - journey through each level successfully by battling monsters while forming alliances with friendly creatures.
Tips and Tricks
Become a master at this game by always being on the lookout for hidden creatures and knowing when to fight or avoid enemies. Collect as many animals as possible, they provide valuable help on your journey. Always remember to keep moving - standing still gives monsters an easy target.
Features
Pixellated Graphics: Offers nostalgically fun visuals mirroring old school gaming aesthetics.
Immersive Gameplay: Provides engaging 10-level adventure packed with unique monsters and diverse landscapes.
Friendly Animals: Enhances gameplay by providing assistance in your adventurous quests.
Action-Packed Adventure: Ensures thrilling combat scenarios against fearsome foes.
What are the best online games?