StaxFall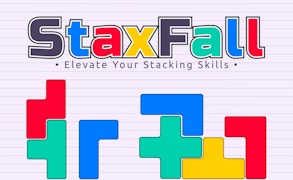 StaxFall
Immersing one's self in the world of StaxFall, you are met with an exhilarating blend of classic Tetris meets tower building game. A testament to the enthralling universe of puzzle games, StaxFall brilliantly balances strategy, skill, and suspense.
This captivating block game is built around a simple yet compelling premise: Strategically position falling Tetris-like pieces atop an immovable base, conjuring a towering construction. The challenge? Testing how high you can stack before succumbing to the merciless law of gravity.
The crux of StaxFall lies in its juxtaposition of exquisite simplicity and intricate strategy. This isn't your run-of-the-mill building game. It's a high-stakes gamble that requires quick thinking and a keen eye for detail. Here, precision is rewarded and each decision can turn your future pile into a towering masterpiece or a premature pile of rubble.
StaxFall takes the classic formula of Tetris and innovates on it creating an entirely new genre within the realm of Tetris games. The thrill derives from balancing these falling blocks, achieving that perfect combo, while simultaneously trying not to let your carefully constructed tower topple over.
In conclusion, whether you're a veteran Tetris player or an ardent fan of puzzle and building games, StaxFall offers a thrilling block puzzle adventure that tests your reflexes and strategic thinking. Its compelling gameplay combined with its addictive nature makes it a standout entry in the broad library of puzzle games.
How high can you stack before the balance tips? Accept the gravity-defying challenge offered by this addictive puzzle game in StaxFall!
What are the best online games?