Stair Run Online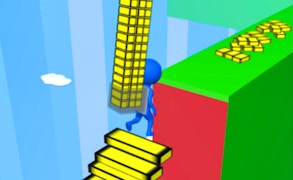 Stair Run Online
Welcome to the electrifying world of Stair Run Online, a game that beautifully marries the thrill of arcade games with the strategic fun of skill games and running games. As a player, your mission is somewhat simple yet brilliantly challenging - collect bricks, build stairs, overcome obstacles, and conquer the mountain!
In this cleverly designed game, challenges pop up in the form of deceptively tricky obstacles and an ominous red zone that must be avoided at all costs. And to navigate through these hurdles, you are armed with nothing but bricks. Yes, you heard it right! A testament to your strategic skills lies in your ability to effectively gather as many bricks as possible and construct sturdy staircases to scale new heights. It's truly a game where the old adage - every brick counts - comes vibrantly alive.
The allure of Stair Run Online lies in its beautiful simplicity contrasted by its captivating complexity. Its straightforward mechanics are what make it so enjoyable and funny, while at the same time demanding a considerable amount of strategy and foresight. Each step you build makes you feel like an architect crafting his masterpiece with utmost precision.
The reward for clawing your way up to the top? A satisfying pile of shiny coins that serves as recognition for your perseverance, precision, and passion. Not only are these coins proof of your victory but also serve an important role in enhancing your gaming strategy in later stages.
In conclusion, Stair Run Online is an addictive blend of skill-based gameplay mixed with an adventurous run towards glory. The game's perfect union of strategy and speed sets it apart from typical arcade games. Whether you're looking for a quick thrill or something more engaging to keep you hooked for hours, Stair Run Online promises not to disappoint.
What are the best online games?
TAGS