Stair Race 3D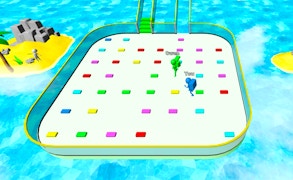 Stair Race 3D
Get ready to immerse yourself in a high-energy, adrenaline-pumping game that will put your skills to the ultimate test! Introducing Stair Race 3D, a unique arcade-style game that's guaranteed to keep you on the edge of your seat. Perfect for fans of 2 player games, stickman games or those who enjoy testing their dexterity with skill-based games.
Stair Race 3D offers more than just an average gaming experience. It's a thrilling race against time and gravity where every second counts. This game is not about luck, it's about speed and precision. The goal is simple - build your stairs as fast as possible to reach new heights and outpace your opponent.
This game adds a whole new dimension to the thrilling genre of stickman games, stepping up its appeal with engaging, 3-dimensional gameplay. As you manoeuvre your stickman up the dizzying heights, you're not just playing a game - you're pushing boundaries, taking risks and defying gravity!
One of the standout features of Stair Race 3D is its versatility as one of the best 2 player games. Not only can you challenge yourself, but you can go head to head against friends or gamers from around the globe, skyrocketing the thrill factor!
But don't be fooled by its simplicity! Stair Race 3D, like all great skill games, requires strategy and quick thinking coupled with rapid reflexes. The excitement that comes with each progressive level is unparalleled in other arcade-style games.
In conclusion, if high-intensity action and skill-testing challenges are what you seek in gaming, then this game should unquestionably be on your radar. Challenge yourself with Stair Race 3D, one of the most riveting stickman games and innovative addition to the arsenal of two-player skill games in 2021.
What are the best online games?