Stack Maze Puzzle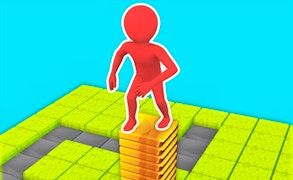 Stack Maze Puzzle
Delving into the realm of brain games and block games, Stack Maze Puzzle establishes itself as a refreshing addition to the roster of exciting fun games. More than just a traditional puzzle, it intertwines elements of stickman games, infusing classic gameplay with a contemporary twist.
In Stack Maze Puzzle, your ingenuity is your greatest asset. The objective is deceptively simple: navigate through a labyrinthine maze while collecting as many boards as possible. But, the beauty in this game lies in its subtleties. Your mission is to strategically choose your path and slide towards victory, transforming what could be perceived as just another one of those ordinary block games, into an engaging journey that keeps you on your toes.
The game flaunts a wide array of game modes to keep you hooked, each offering its unique spin on the classic formula. Furthermore, numerous game levels are available that accommodate both beginners and seasoned veterans of brain games. The variety speaks volumes about its replayability factor - much needed in the genre.
Surely, being pigeonholed into familiar mazes could quickly become monotonous. To counteract this, Stack Maze Puzzle presents diverse maze types for a riveting experience every time. Its versatility reinforces it as one of the most exciting fun games.
To sum up, Stack Maze Puzzle isn't merely another addition to your collection of stickman games. It's a rich tapestry woven with intricate puzzles that stretch your mental muscle, daring mazes that excite the adventurer in you, and exhilarating gameplay mechanics that help it stand head and shoulders above other block-style puzzle games.
If you are seeking challenges to conquer, minds to stimulate, and a gateway into an innovative world of puzzles and strategy; look no further than Stack Maze Puzzle!
What are the best online games?