Squid Dentist Game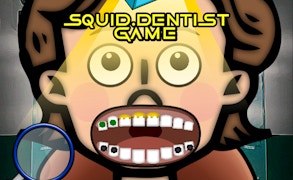 Squid Dentist Game
Description
In the intriguing Squid Dentist Game, you get to play as a dentist for a host of squid characters, embracing fun-filled challenges. This game stands out for its unique approach to a dentist office scenario that mixes healthcare with underwater fun. The game's design is not just about treating patients but also about creating a smooth user experience, aided by fantastic graphics and sound effects.
How to Play
The game focuses on treating the dental problems of your squid patients. Your main tool is a selection of dentist tools, each serving different purposes. To proceed in the game, successfully treat your patient by using these tools appropriately. Remember, being a dentist requires precision and care - so don't rush your procedures!
Tips and Tricks
To excel in Squid Dentist Game, take time to familiarize yourself with the various dental tools at your disposal. Use them judiciously to treat your patients. Remember not to rush procedures and always keep an eye on your patient's comfort level.
Features
Six unique Squid Characters: Each coming with its own set of dental challenges.
Impressive Graphics and Sound effects: Boosts engagement and enhances user experience.
Diverse Dentist Tools: Increases complexity and makes gameplay more interesting.
Child-friendly: The game is suitable for kids, offering fun learning about dental care.
What are the best online games?