Spiral Roll Game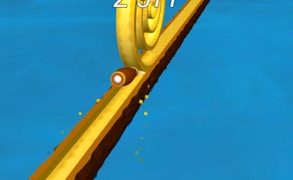 Spiral Roll Game
If you're a fan of Hyper Casual Games and have a penchant for addictive tap games, then prepare to lose yourself in the mesmerizing world of Spiral Roll. This is not just another ordinary game in the vast sea of apps, but a uniquely designed, engaging 3D arcade experience to help you escape reality and dive into an endless fun-filled dimension.
Spiral Roll is more than just a pastime. It's your pathway to an unparalleled gaming adventure. One tap transports you into its extraordinary realm where your main goal is to deftly avoid obstacles while trying to conquer as many levels as possible. The challenge might sound simple, but don't be fooled - the game's addictive allure lures you into hours of captivating gameplay.
A critical part of Spiral Roll's magic lies in its ease and simplicity. With a single tap on your screen, the journey begins. The real puzzle? The enticing roadblocks that lay ahead. The game brilliantly tests your reflexes and strategic prowess without making it feel like work. After all, this is what makes brilliant tap games.
Moreover, Spiral Roll has exquisitely-paced levels which gradually increase in difficulty providing both rookies and veterans with a balanced mix of challenge and relaxation. Indeed, it serves as an ideal antidote for boredom.
In conclusion, if you're in search of a thrilling yet calming escape from everyday life, it's time you downloaded Spiral Roll. Witness the sublime fusion of 3D graphics with ultra-smooth gameplay that will both challenge and enthrall you at every turn. Don't just play games; experience them with Spiral Roll!
What are the best online games?