Spiral Roll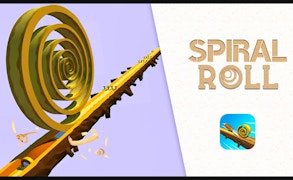 Spiral Roll
Delve into the world of Hyper Casual Games with Spiral Roll, an exciting entry in the addictive genre of clicker games. This intuitive, yet challenging, game is set to redefine your perception of tap games as it presents a delightful blend of effortless gameplay and strategic thinking.
The concept revolves around gathering wood by rolling it up and strategically launching it to clear your path. A simple tap and hold mechanism initiates the rolling, while a calculated release propels your spiraled wood to dismantle obstacles such as saws. The main aim? To secure the coveted end bonus at the completion of each distinct level.
The beauty of Spiral Roll lies in its simplicity, yet hides beneath its surface a layer of depth waiting to be unraveled. When you think you've mastered the rhythm of tapping and holding, releasing at just the right moment to dispatch obstacles becomes crucially important. It's here that Spiral Roll transforms from a simple clicking game into an exercise of timing and strategy.
This title effortlessly embodies the casual spirit symbiotic with both clicker and tap games whilst simultaneously elevating these norms through its unique mechanics. The result? An engrossing experience that leaves players yearning for more.
If you're searching for a pick-up-and-play experience that offers more than mindless clicking, Spiral Roll's amalgamation of easy-to-grasp controls coupled with its deeply engaging gameplay might just be what you were looking for in the vast realm of hyper-casual games.
What are the best online games?