Spidey Swing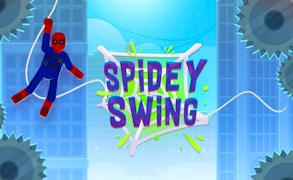 Spidey Swing
Welcome to the world of Spidey Swing, the newest addition to hyper casual and skill games, making waves in the arcade genre. Step into the intense adventures of Spidey and experience an adrenaline rush that keeps even the most experienced gamers on their toes.
At its core, Spidey Swing is all about precision and timing. The challenging mechanics demand a high level of skill; shoot webs, grab on to precarious edges, and swing like a spider pro. It's one of those survival games that pushes you to keep a majority of your body parts intact in order to accomplish your mission.
Not for the faint-hearted, Spidey Swing is filled with hair-raising obstacles. You'll be dodging sharp edges, rotating chainsaws, arrows, mace and other deadly objects aiming to finish you off. The relentless onslaught keeps players on edge, forcing them to weave their webbed hero through a gauntlet of terrors.
The true beauty of Spidey Swing, however, lies in its mesmerizing simplicity; it's proof that games don't have to be overly complex to be engaging. This unpretentious hyper casual game is easy-to-learn yet hard-to-master, redefining the arcade gaming landscape.
Spidey Swing is truly an exceptional addition to your gaming lineup if you're a fan of skill games or survival games within the arcade genre. With its exciting gameplay and simple mechanics, this game promises an enthralling journey full of diverse challenges that will keep you hooked for hours.
In conclusion, Spidey Swing seamlessly blends excitement and challenge into a game that is as addictively fun as it is expertly crafted. Jump into Spidey's shoes – or rather his web – navigate through hazardous terrains and aim for victory! It's time to swing into action with Spidey Swing!
What are the best online games?