Space War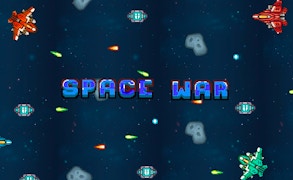 Space War
Description
Dive into the intergalactic action with Space War, an exciting space shooter game with a twist. Not only do you get to enjoy the traditional shooting gameplay, but there's also an innovative mode where your own voice becomes your weapon! Use your microphone to blast away enemies in this thrilling, out-of-the-world adventure. Accommodates both desktop and mobile play.
How to play
Navigate your spaceship using your arrow keys or touch controls when playing on mobile. Shoot missiles by clicking the mouse or tapping the screen. In the unique Voice Mode, use your microphone to shoot; every noise you make translates into an attack in the game. The louder you scream, the more powerful your strike!
Tips and Tricks
Stay constantly moving to avoid enemy attacks. Balance between shooting and moving is key. In Voice Mode, remember that loud noises produce stronger attacks; vary your volume for different attack strengths.
Features
Classic and innovative gameplay modes
User-friendly controls suitable for desktop and mobile play
Unique Voice Mode feature that utilizes the player's microphone for gameplay
Fast-paced and challenging enemy waves
Made by Italian game developers known for their creative approach to game design
What are the best online games?