Space Shooter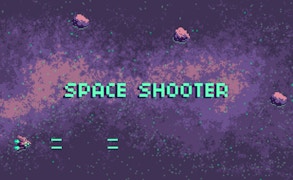 Space Shooter
Description
Tread into an enthralling world of pixelated cosmic battles with Space Shooter. Speed through the galaxy as you skillfully dodge or blast destructive asteroids. Each asteroid you annihilate adds to your soaring score, enhancing your cosmic dominance. Fast-paced and thrilling, this game will keep you on the edge of your seat.
How to play
Control your spaceship using your arrow keys or mouse. Avoid the rushing asteroids by maneuvering around them or shoot at them using your space bar. Each hit amps up your score, with challenging levels that progressively increase in difficulty and speed. The journey to become the ultimate space ace begins here!
Tips and Tricks
Mastering control is key! The spaceship moves at a fast pace, so practice precise movements to dodge asteroids effectively. Also, remember that shooting is not always the best strategy as it may distract you from incoming asteroids. Learn when to shoot and when to evade.
Features
The game boasts of:
An immersive pixel-art environment, adding a retro feel to modern gameplay.
An adrenaline-pumping fast-paced system requiring quick reflexes.
Infinite replayability with ever-increasing challenges.
A high-score system that promotes competition and boosts player engagement.
What are the best online games?