Space Doodles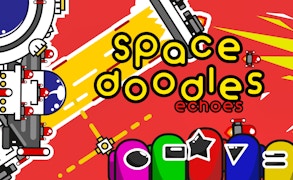 Space Doodles
Description
In Space Doodles, the tranquility of the universe is threatened by alien invaders. As the last defender, you are tasked to safeguard the galaxy in this action-loaded adventure game. It's your responsibility to manage a spaceship, taking it into battle against these extraterrestrial adversaries. The fate of the cosmos depends on your ability to eradicate these foes and keep their destructive intentions at bay.
How to play
With intuitive controls, navigate your spaceship across space, annihilating alien invasions in your path. The spaceship can be moved and aimed at intruders for attack. There are opportunities to upgrade your spaceship and weapons as you progress through the game, enhancing its destructive potential for more challenging alien confrontations.
Tips and Tricks
To excel in Space Doodles, balance your focus between offense and evasion. While it's important to eliminate intruders, safeguarding your spaceship from incoming attacks is equally crucial. Collect bonuses and power-ups whenever available; they are key to enhance your spaceship's attributes.
Features
Stunning graphics: Enjoy spectacular lighting effects and visuals.
Bonuses & Bosses: Encounter powerful bosses and grab bonuses throughout the game.
Global Leaderboard: Compete with players worldwide on the global leaderboard.
Circle of Happiness: Experience joy with every level you conquer in this thrilling cosmic journey.
What are the best online games?