Somewhere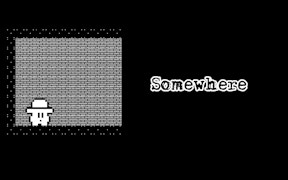 Somewhere
Description
In Somewhere, you'll find yourself immersed in an intricate 1-bit 2D platform universe. With no enemies to combat, your solitary challenge involves navigating through a series of complex levels filled with daunting obstacles. With 7 challenging levels to conquer, this game tests your wit, patience, and determination alone.
How to play
Your objective in Somewhere is to safely navigate through each level, overcoming the array of obstacles in your path. Utilize either the arrow keys or WASD for movement and jumping. Carefully time those jumps and make strategic use of your environment to progress. But beware, one misstep will send you back to the start.
Tips and Tricks
To succeed in Somewhere, approach each obstacle with careful consideration. Rushing can lead you into traps. Always survey areas before proceeding and maintain a keen sense of timing during jumps. Pro tip: Keep in mind not all obstacles appear as they seem; secrets may lie hidden.
Features
Unique 1-bit Graphic Style: Enjoy the beautiful simplicity of 1-bit graphics that draws you into its world.
No Enemies: Experience a platform game where the only threats are the environment and your own precision.
Seven Intricate Levels: Traverse through seven demanding stages that will test your strategy and timing abilities.
Mysterious surprises: Discover hidden secrets within the supposedly straightforward obstacles.
What are the best online games?
Tags