Some Little Bosses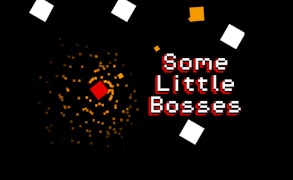 Some Little Bosses
Description
Immerse yourself in Some Little Bosses, a captivating skill-based fighting game. Your mission is to face off against a variety of bosses, each with their unique abilities and tactics. With its enchanting art style and thrilling gameplay, it offers unlimited hours of fun as you maneuver your way through challenging fights. Master the mechanics to conquer each boss and emerge as the ultimate champion.
How to play
To play Some Little Bosses, all you need is to master your keyboard controls. Move your character using the arrow keys and use specific key combinations for attacks or defenses. As you progress, more complex maneuvers will be unlocked, allowing you to strategically take down tougher bosses. Your progress in this game depends on your ability to develop smart strategies.
Tips and Tricks
In Some Little Bosses, always study the bosses' attack patterns before rushing into combat. Use your defenses wisely to avoid damage and exploit their weaknesses when they reveal them. Perfecting your timings can be a decisive factor in winning battles.
Features
Variety of Bosses: Each with unique abilities and tactics.
Challenging Gameplay: Requires strategic thinking and swift actions.
Addictive Progression: The more you play, the tougher it gets, increasing replayability value.
Skill-based Mechanisms: Mastery over game controls is key to victory.
What are the best online games?
Tags