Solitaire Mahjong Farm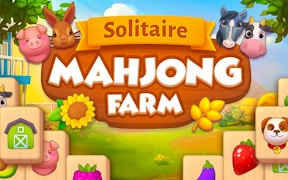 Solitaire Mahjong Farm
Are you a fan of Mahjong games? How about the relaxing pace of traditional Solitaire games? Or perhaps you enjoy the serene tranquility of the countryside in popular Farm games? If your answer to any or all these questions is a resounding yes, then Solitaire Mahjong Farm is the game for you.
At its core, Solitaire Mahjong Farm takes the fundamental mechanics of classic solitaire mahjong and elevates them to an entirely new dimension. This is a game that magnificently fuses elements from different board game genres into a cohesive and highly engaging unit.
The gameplay revolves around arranging beautiful candies in accordance with mahjong's standard rules, but with an intriguing solitaire twist. Each candy, painstakingly designed, adds not just to the visual appeal but also augments the overall immersive experience. The solitaire element introduces an aspect of strategy often lacking in conventional Mahjong games, enhancing both its challenge and charm.
But what sets Solitaire Mahjong Farm apart from most Solitaire games and Farm Games is its progressive puzzle-based approach. The more you play, the more puzzles unfold, creating a truly dynamic gaming experience rarely witnessed in typical board games.
The point-scoring element adds a dash of competitiveness to this otherwise calm and collected gameplay, prompting players to constantly strive for higher scores and consequently ensuring replayability.
In conclusion, if you are in search for a unique blend of challenging strategy and laid-back fun rolled into one sweet package, look no further than Solitaire Mahjong Farm. With its intricate yet intuitive gameplay coupled with splendid visuals and an enticing point system, this game promises an unforgettable journey into the vibrant world of mahjong, solitaire, and farm gaming that will leave you yearning for more.
What are the best online games?