Snowcross Stunts X3M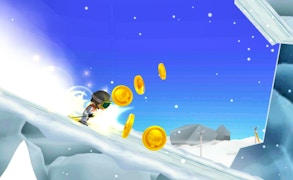 Snowcross Stunts X3M
Unleash your inner thrill-seeker with Snowcross Stunts X3M, the latest in exhilarating winter sports gaming. This isn't just another entry in the oversaturated market of running games or skateboard games; it's a frosty adrenaline rush that will keep your fingers frozen to the screen!
Ride the cutting edge wave of sports games as you glide through snow-packed landscapes and launch off icy ramps. More than just a fun pastime, Snowcross Stunts X3M is a testament to Skill Games, demanding your precision timing and dexterity as you navigate its dynamic courses.
But don't let the frostbite fool you, there's an inferno of competition heating up within this game. Whether you're zipping through single-player levels or challenging opponents in the fevered pitch of multiplayer mode, Snowcross Stunts X3M is all about pushing boundaries. In this world of extreme winter stunts, only those with the boldest moves and sharpest skills stand a chance at victory.
The game design takes you on an epic journey: unlock awesome skier and snowboard characters as you progress, each one equipped with their unique style and strengths. The game offers an immersive experience that creates a seamless blend between art form and sports simulation.
In conclusion, Snowcross Stunts X3M is not just another winter sports game. It's more than that: an amalgamation of action-packed stunts, fast-paced running sequences and mind-bogglingly cool tricks on skateboards (or rather, snowboards). It's a formula that works splendidly well here, pushing you to fine-tune your motor skills with every attempt at mastering these icy tracks.
Buckle up for this snow-packed thrill-ride - it's going to be a frosty blast of excitement! If you're a fan of skill-based games or have a penchant for exhilarating sports games, then Snowcross Stunts X3M is surely one ride you won't want to miss.
What are the best online games?