Snakes and Ladders Game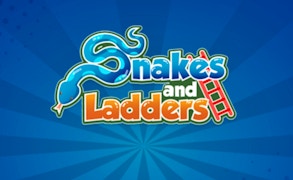 Snakes and Ladders Game
If you're seeking a playful representation of the rollercoaster ride we call life, then there's no better choice than the Snakes and Ladders Game. In this grand tableau, your fate lies in the roll of the dice, with each landing marking a step towards victory, or an obstacle to overcome. Ideal for those with an appetite for 2 player games or as part of a more connected experience, this game provides hours of fun on both fronts.
Just as we climb ladders (opportunities) and slide down snakes (challenges) in real life; in the Snakes and Ladders Game, these metaphors become reality. Arrive at a ladder and catapult forward. Encountering a snake means going back a few spaces - teaching a valuable lesson that setbacks are also part of the journey.
It's not just about competition; it's also about connection. With room for 2 or 4 players, you can either pit your wits against family members or aim to become the king or queen amongst your circle of friends. And if you're lacking company? Don't worry! There's the option to play with AI too - making it an all-inclusive contender in family games.
The multiplayer casual game aspect allows you to chat and bond with fellow gamers while selecting from an abundant avatar collection gives you a personalized touch. There's no better way to express yourself as you navigate through ups and downs on your path to victory.
Packed with features tailored for social interaction and designed to foster strategic thinking, playing Snakes and Ladders Game, is like romping through life's brilliant highs and educational lows - all within the comfort of your home. It's more than just a game; it's an experience waiting to be explored.
What are the best online games?