Snake Vs Colors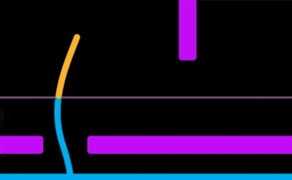 Snake Vs Colors
Prepare to immerse yourself in a rich, vibrant world of hues with the hot new arcade game Snake Vs Colors. This is not just another one of those snake games. It's time to bid goodbye to the traditional black and white screens, for Snake Vs Colors brings an unusual twist to the mix, by integrating elements of coloring games into the classic snake formula.
In this thrilling journey, you don't merely control a snake; you embody a dynamic line that colors its way, snaking through an onslaught of obstacles in a test of skill. The premise may seem simple: avoid touching objects that are a different color than yours. But don't be fooled. This challenging game will test your reflexes to their limit and is guaranteed to keep you on your toes.
"Easy to learn, hard to master", Snake Vs Colors encapsulates the essence of the most engaging Skill Games. The game steadily ramps up its difficulty, constantly pushing your boundaries and testing your ability to adapt. Ensuring you stay hooked with its addictive gameplay mechanics.
Whether you are an arcade enthusiast or someone just looking for a fun way to pass time, Snake Vs Colors is sure to grab your attention with its fast-paced action and visually striking color mechanics. The true test of skill lies in how long you can keep the vibrant line alive against ever-changing colors and relentless obstacles.
Set high scores, challenge yourself every step of the way and don't forget to share your achievements with your friends! Snake Vs Colors isn't just a game; it's an elite arcade experience that's waiting for you to join in on the fun.
Snake Vs Colors: Where coloring games meet dynamism of snake games in an ultimate showdown of skills!
What are the best online games?