Slot Katana Fruits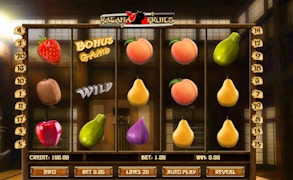 Slot Katana Fruits
Welcome to the alluring realm of Slot Katana Fruits, an enigmatic blend of traditional casino games and Japanese culture, interspersed with a luscious fruit backdrop to whet your gaming appetite. This game is a unique offering in the world of slot games, deftly combining the thrill of casinos with an unforgettable ninja adventure.
The moment you delve into this game, you will find yourself immersed in a mesmerizing universe that pulsates with rich color and attractive graphics. The developers have achieved a remarkable feat by integrating the atmosphere of ancient Japanese Ninja artistry into a slot machine game format. It's like walking straight into a fantasy world where ninja games cross paths with money-hunting pursuits.
Each spin in Slot Katana Fruits brings with it an adrenaline surge comparable to embarking on a thrilling ninja mission, where your primary objective is to win some serious cash. The innovative bonus game further intensifies your chances to multiply your winnings. This extraordinary fusion of themes transforms Slot Katana Fruits from just another slot game to an unparalleled gaming experience.
In addition, the freespins feature is cleverly incorporated to heighten the level of excitement. It generously awards players with extra spins for free, adding not only an element of suspense but also upping the ante for money games.
To conclude, if you're on the hunt for an exhilarating blend of casino and ninja-themed entertainment that has the potential to fill your pockets, Slot Katana Fruits should be on top of your list. It is not just a game - it's an exotic journey embracing casino thrills and Ninja adventures, promising unmatched entertainment along with enticing monetary rewards!
What are the best online games?