Slope Extra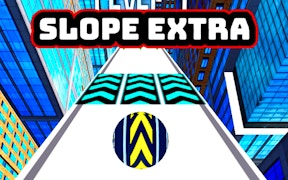 Slope Extra
Dive into the fast-paced, adrenaline-pumping universe of Slope Extra, a unique entrant in the realm of arcade games that promises to take your breath away. As an innovative amalgamation of ball games, running games, and hyper casual games, Slope Extra stands out in the gaming landscape with its spellbinding graphics, unparalleled controls, and exciting gameplay.
The core premise of Slope Extra is deceptively simple: control a perpetually accelerating ball as it rolls down increasingly complex slopes while avoiding an array of obstacles. Yet, the charm and attraction of this game lie within this simplicity. In essence, it's a beautiful marriage of some of the most compelling elements from skill games and hyper casual genres.
In Slope Extra, every second counts, every move matters. There's no room for error; one wrong maneuver and it's game over. The thrill of battling against physics while tumbling down sloping ramps at a breakneck pace provides an exhilarating gaming experience that's not easy to replicate.
This endless ball rolling game employs stunning graphics that are pleasing to the eye without causing distraction from the primary focus – keeping the ball from crashing. The controls are intuitive and responsive, lending a fluid feel to your mad dash down the treacherous ramps.
Slope Extra offers something for everyone, whether you're someone seeking a fun way to pass time or an avid gamer looking for your next challenge. It demands accuracy, quick reflexes, and strategic planning – offering an engaging experience that will keep you on your toes from start to finish.
In conclusion, if you're looking for a captivating blend of fast-paced action, suspenseful anticipation mixed with rewarding challenges – look no further than Slope Extra. Brimming with excitement at every turn, this ball rolling extravaganza will have you hooked in no time.
What are the best online games?