Slingshot Jetpack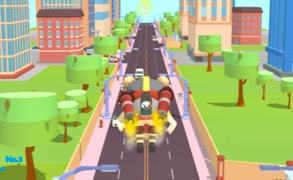 Slingshot Jetpack
Launch into a world of airborne adventure in the thrilling arcade game, Slingshot Jetpack. Combining the exhilaration of skill games and the adrenaline rush of flying games, this jetpack fuelled escapade delivers an immersive gameplay experience like no other.
Slingshot Jetpack propels you into a sky-high journey, letting you fulfill your dream of gliding effortlessly over a sprawling cityscape. You're not just aimlessly soaring the heavens - your mission is to harvest gold coins suspended in mid-air, adding an exciting dimension of strategy and precision to this skyward quest.
No typical flight simulator, Slingshot Jetpack demands more than just keeping aloft. With each level bringing its fair share of challenges and the final destination to accurately reach, it's a true testament to your piloting prowess and tactical acumen. Each successful landing feels like a win, driving you to embark on the next gold gathering odyssey.
Offering intuitive controls and engaging mechanics, Slingshot Jetpack doesn't have a steep learning curve; it's easy enough for beginners to pick up but certainly has sufficient depth to keep veteran players engaged. The fusion of thoughtful resource collection with high-flying fun makes for a compelling gameplay loop that will keep you hooked for hours on end.
In summary, whether you're an enthusiast of skill games, an aficionado of flying games, or simply just someone seeking their next gaming fix, Slingshot Jetpack stands out as a must-play arcade attraction. It's time to strap in, power up that jetpack, and ascend towards an epic adventure above the clouds!
What are the best online games?
Tags