Sliding Escape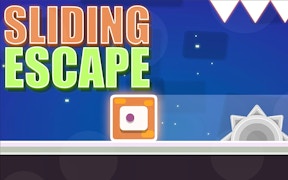 Sliding Escape
Delve into the adrenaline-pumping world of Sliding Escape, a quintessential fusion of action and puzzle that seamlessly fits the bill for exciting arcade block games. This immersive game is a thrilling roller-coaster ride that won't let your fingers rest, pulling you into a vortex of fun and excitement.
Skillfully designed, Sliding Escape tests your mettle right from the very first level, keeping you on your toes at all times. The objective is simple yet challenging: reach the target without bumping into a myriad of moving enemies. This thrilling premise makes it an engaging addition to skill games online.
The game's name itself is a spoiler alert - the action revolves around 'sliding' and 'escaping', creating a tension-filled atmosphere that gamers crave for. The enemies are relentless, always on your tail, transforming this delightful game into one of the top-notch escape games on the market.
In Sliding Escape, each level is intricately crafted with obstacles strategically placed to test your dexterity. The higher you climb in levels, the steeper becomes the challenge. It's not just about sliding; it's also about strategizing your moves in split seconds, adding an extra layer of complexity to this already electrifying arcade game.
The control scheme is straightforward and easy to master but don't let this fool you - mastering the game itself is another story. With each level conquered, one can feel a sense of achievement that only high-quality skill games can provide.
To sum it up, Sliding Escape is not just another game; it's an exhilarating journey filled with action and strategic planning - a true gem in the realm of block games. Whether you're an arcade enthusiast or a casual gamer seeking escape from boredom, Sliding Escape promises to keep you hooked till the end. Experience it to believe it!
What are the best online games?