Slacking Game: Gym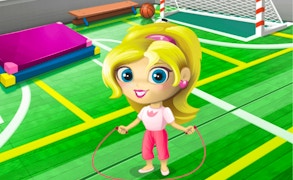 Slacking Game: Gym
Embrace your ultimate gymnastics journey with the captivating "Slacking Game: Gym", a noteworthy addition to the sports genre — perfectly aimed at the younger crowd, especially those looking for high-quality games for girls. This game successfully merges the thrill of gymnastics and the fun of completing engaging 'slacking' activities, all within a firm time frame!
Raise your adrenaline as you skillfully complete your tasks while trying to avoid being caught by the coach. A unique twist that sets this game apart from the plethora of generic sports games tailored for kids. The goal is not just about winning - it's about conquering each level with astuteness and nimbleness.
Apart from showcasing an excitingly unpredictable storyline, Slacking Game: Gym shines with its vibrant graphics and intuitive controls, making it immediately appealing to its target audience. The colorful environment mirrors a real-life gymnastic training arena, providing an authentic feel to its users while promoting kinesthetic learning through play.
The central theme of gymnastics games remains highly relevant throughout your playtime. You can learn and practice various gymnastic movements, making this game both entertaining and educative. It encourages strategic thinking, cognitive development, and coordination skills amongst kids—further enhancing their understanding of how to balance work and play in an engaging way.
In summary, Slacking Game: Gym is a delightful fusion of fun-filled tasks and gymnastic stunts offering a refreshing approach in kids sports games. Its unique gameplay, vibrant visuals, educational value make it a must-try title for young gaming enthusiasts. So put on your leotard and get ready for some enthralling gymnastic action!
What are the best online games?