Sky Train Driving 2020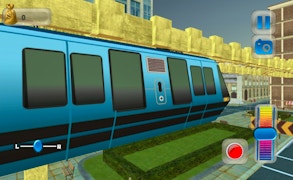 Sky Train Driving 2020
Are you a thrill-seeking gamer looking for a new adventure? Look no further than Sky Train Driving 2020- your go-to game of the year. For those craving a fusion of truck games, driving games, simulator games, offroad games, and yes, even flying games, Sky Train Driving 2020 has got you covered.
The game is set to stun with its next generation graphics of rails, suspended high on sky tracks. The visuals are a tantalizing tease to what lies ahead: piloting futuristic bullet trains through an expansive city environment. This isn't your average driving game. It's an elevated train driving experience that literally takes its players to new heights.
In terms of gameplay, Sky Train Driving 2020 is as challenging as it is exhilarating. You'll find yourself weaving through city skyscrapers at top speeds, above road traffic jams and urban chaos. It's a breath of fresh air in the realm of simulator games. Whether you're a seasoned veteran or newcomer to the genre, this game will draw you in with its superior simulation mechanics and sophisticated train control systems.
As far as offroad games go, Sky Train Driving 2020 paves its own path - or rather, rail - by pushing the boundaries between land-based and sky-high adventures. Tasks include transporting city passengers from one subway station to another – not just any task when it's all happening several feet above ground!
To sum up: Sky Train Driving 2020 doesn't just raise the bar for flying games, it shatters it entirely. This game takes you places where buses can't go and trucks dare not tread. If you're ready for an adrenaline-packed journey that transcends all terrestrial limits - this is the train ticket you've been waiting for.
What are the best online games?