Sky Roller Online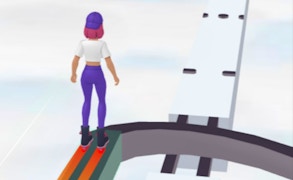 Sky Roller Online
Immerse yourself in the adrenaline-pumping world of Sky Roller Online, a captivating and stylish 3D skating adventure that is sure to keep you on the edge of your seat! This game, which expertly combines elements from skill games, skateboard games, and running games, offers a one-of-a-kind gaming experience that will test your reflexes and gaming prowess.
From the get-go, Sky Roller Online impresses with its vibrant graphics and fluid animation. The skater glides forward automatically, creating an experience akin to a rocket-powered joyride. The intuitive controls require players to manipulate the character's leg opening range to avoid obstacles – delivering an interesting twist to typical running games.
This game's well-crafted design truly captures the heart-pounding thrill of high-speed skateboarding, catapulting it to higher rankings in skateboard games. But this game isn't all about evasion – it's also a quest for bling! As you navigate through this urban jungle, remember to collect diamonds scattered across your path. These shiny gems serve more than just aesthetic purposes; they're your ticket to unlocking cool new skins!
In the crowded arena of skill games, Sky Roller Online definitely stands out! Its unique combination of hair-raising speed, eye-catching visuals, fun mechanics, and sprinkles of strategic play make it a must-try for any gamer looking for fresh challenges. You won't just be playing another game; you'll be embarking on a thrilling skateboarding journey unlike any other.
In sum, Sky Roller Online is much more than just a cool and exciting 3D skating game - it's an electrifying ride that's perfect for gamers seeking their next obsession. So strap on those virtual skates and get ready for some high-octane fun in Sky Roller Online!
What are the best online games?