Sky Fighter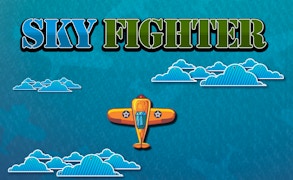 Sky Fighter
Description
In Sky Fighter, you find yourself in the seat of a gunship, soaring through the sky as an aviator of valor. Challenge yourself to skilfully manoeuvre through chaotic aerial warfare and fight off waves of adversaries. Remember, your main objectives are to annihilate enemy aircraft, collect coins, refill your gas and gain extra lives, all while aiming to maintain the highest score.
How to Play
Sky Fighter uses intuitive controls that are easy for any player to understand. Use directional keys or mouse controls to steer your aircraft across the vast sky. Shoot down enemies with automatic gunfire, gather coins, gas and life power-ups to stay in the game longer and boost your score. The longer you survive, the higher your score escalates.
Tips and Tricks
Keep an eye on your fuel gauge - running out of gas mid-flight could be disastrous! Always attempt to collect life power-ups when you see them; these will keep you in play for longer periods. Be strategic about timing your attacks on enemies and evading their fire.
Features
Engaging enemy AI provides non-stop action.
A diverse range of power-ups increases game longevity.
A competitive scoring system that motivates players to strive for better performance.
Intuitive controls cater for a wide audience of players.
What are the best online games?
Tags