Skibidi Toilet Moto Bike Racing 2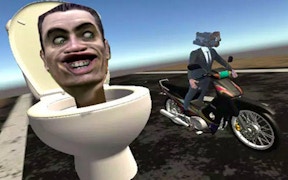 Skibidi Toilet Moto Bike Racing 2
Description
Discover the thrilling world of Skibidi Toilet Moto Bike Racing 2, a unique racing game featuring an outrageous twist - toilet vehicles! This sequel ramps up the challenges, incorporating a wide array of drag modified toilet vehicles for gut-wrenching, unpredictable races. Immerse yourself in the ultimate toilet biking experience filled with high-speed action and innovative bike designs. The collection of drag toilets offers a fresh saga in this free-to-play game.
How to play
To play Skibidi Toilet Moto Bike Racing 2, use your keyboard's arrow keys for driving. The up and down arrows control speed, while left and right keys manage direction. Progress in the game involves unlocking new and exciting drag toilets by winning races and collecting points. Use skilful manoeuvres to outpace opponents and claim victory on every track.
Tips and Tricks
Become a pro at Skibidi Toilet Moto Bike Racing 2 by mastering control techniques on different terrain types, as each drag toilet responds differently. Time your accelerations to gain speed without losing control. Knowing when to push hard or slow down can significantly influence your racing outcome, so pay attention to the track ahead!
Features
Variety of unique drag toilets to choose from.
Challenging terrains that test your driving skills.
Engaging gameplay with high-speed racing action.
Terrific graphics that keep you hooked.
Free-to-play with additional collectibles for enhanced gaming experience.
What are the best online games?