Skibidi Toilet Math challenge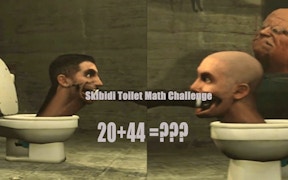 Skibidi Toilet Math challenge
Description
Enter the demanding and spooky world of Skibidi Toilet Math Challenge. In this enthralling number game, you must solve mathematical problems under pressure. But there's a catch: the Skibidi Toilet awaits to haunt you should you make an error or run out of time. The stakes are high as your mathematical abilities are put to the ultimate test!
How to play
Navigate through the game using your mouse or touchscreen. Solve presented math problems as swiftly as you can by selecting correct answers. As you progress, the problems become trickier and the clock ticks faster. Errors or time depletion will invoke the dreaded Skibidi Toilet.
Tips and Tricks
Practice your mental math skills to succeed in this game. Stay calm under pressure and always double-check your answers. Remember that wrong answers or exceeding time limits summon the Skibidi Toilet.
Features
Fabulous blend of horror and mathematics.
Innovative gameplay mechanics.
Addictive yet educational entertainment.
In-game timer for added suspense.
Fearsome antagonist, Skibidi Toilet.
What are the best online games?