Silicon Valley - Idle Tycoon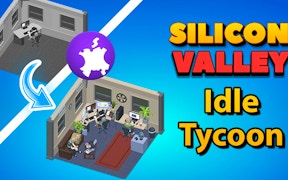 Silicon Valley - Idle Tycoon
Description
In Silicon Valley - Idle Tycoon, players begin with a barren cityscape and a dream of tech dominance. As the money starts to flow, your initial investment transforms the city into an IT hub. But don't stop there, channel those funds into upgrades that will continue to increase your earnings with each click. Even when you're offline, your city keeps growing and earning! The goal? Become the ultimate billionaire tycoon and create an unrivaled tech empire.
How to play
The game is easy to navigate with simple click controls. Earn money by clicking on new buildings and upgrades. Spend wisely on building infrastructure for your city and boost your earnings with smart investments in upgrades. Your level ups mean higher revenues while golden drones offer bonuses. The game stays active even when you are offline, so ensure you collect your offline bonus when you log back in.
Tips and Tricks
Prioritize regular upgrades to generate higher income. Keep an eye out for golden drones as they offer lucrative bonuses that can help you grow faster. Be patient: this is an idle game, profits accumulate over time even when you're not playing - so don't forget to collect your offline bonus!
Features
Simple, intuitive city-building simulator.
Potential for ongoing revenue, even when offline.
Bonuses from golden drone sightings.
Famous company buildings open up for added flavor.
Options to level up for increased profits.
What are the best online games?