Shopping Mall Tycoon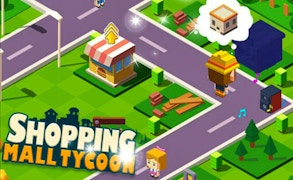 Shopping Mall Tycoon
Welcome to the realm of the riveting world of strategy games enriched with the elements of building games, as we delve into the mesmerizing labyrinth of 'Shopping Mall Tycoon'. A game that adeptly combines elements of city building and money games, it is perfect for those who have a penchant for economic simulations and tycoon games.
In Shopping Mall Tycoon, you have the ambitious goal of becoming a world-renowned business tycoon and own every shopping mall in sight - an exhilarating business venture that's only reserved for those who are brave enough to take on the challenge. Your journey begins on a small plot of land, where you endeavor to build your first store and commence your commercial empire.
This is not just about erecting stores, it's about management. A profound element within these types of tycoon games that sets them apart from other building games. The growth potential is limitless - as long as your pockets can hold enough money!
Every decision counts in this game, just like in real life business ventures. It's all about strategy and planning in Shopping Mall Tycoon - manage your finances well, expand wisely, and reap the fruits of your hard work. The more you play, the deeper you will venture into this fascinating world.
Shopping Mall Tycoon stands tall among other city building games due to its engaging gameplay mechanics and extraordinary replayability value. This game sails you through an ocean of challenges where there are no shortcuts to success, making it one of the best money games out there.
If courting risk while creating wealth is your cup of tea, then indulge in Shopping Mall Tycoon. This game truly personifies that 'the art isn't in making money, but in keeping it'. Dare to dream big? Then step into this world and be ready to become a global tycoon.
What are the best online games?