Shopping Mall Makeover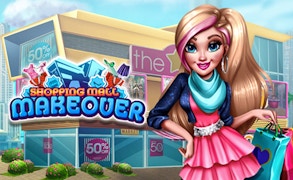 Shopping Mall Makeover
Welcome to the enchanting and colorful world of Shopping Mall Makeover, a must-try game for girls who have a penchant for fashion games. Enter a dazzling universe where style meets fun, perfect for young fashionistas who dream of creating their own stunning looks.
This is not just your ordinary mall; it's a paradise full of incredible hairstyles, fabulous shoes, and gorgeous outfits waiting to be discovered. In this charming fashion game, you'll have the opportunity to play stylist for three best friends and guide them in crafting the most standout styles in the mall.
The beauty of Shopping Mall Makeover is that it promotes imagination and creativity through its vast range of beautiful dresses, skirts, and colorful tops available. The possibilities are endless as you can mix and match these items just like a real stylist in an actual shopping mall.
The game does not stop at clothes shopping. It goes beyond by giving gamers the chance to explore different hairstyles and shoe options. This level of detailing makes the user experience engaging and immersive like no other games for girls. Your dream of becoming a fashion guru might just start here!
Apart from its captivating gameplay, Shopping Mall Makeover also impresses with its vibrant graphics and easy user interface that add to its appeal. Particularly eye-catching are the beautifully-designed outfits that reflect current fashion trends.
In conclusion, Shopping Mall Makeover is more than just a game—it's an exciting journey into the world of fashion. It's certainly one of those fashion games that beautifully blends fun with learning something new about style. So why wait? Step into this thrilling world and have a great time shopping in your favorite virtual mall!
What are the best online games?