Shopping Cart Hero HD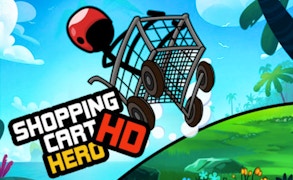 Shopping Cart Hero HD
Roll down the ramp and take flight in Shopping Cart Hero HD, the latest sensation in the world of Hyper Casual Games. This is not your regular grocery run; this is a thrill ride that challenges both your skill and imagination, perfect for anyone who enjoys stickman games and all things fun.
The beauty of this game? Its simplicity. You are a stick figure with a cart, a hill, and an ever-growing list of incredible stunts to master. But don't be fooled. Shopping Cart Hero HD might be easy to learn, but it's hard to master.
Newly released with high-definition graphics, the reinvented arcade classic presents you with an all-new level of gaming immersion. The scenery whizzes past at break-neck speeds as you rocket into the stratosphere in your tricked-out shopping cart.
This isn't just an ordinary stickman game. It's more than that. It's about strategy, quick decision-making skills, and fun upgrades that keep players coming back for more. You need to reach the market? Better get those upgrades and prove you're the best!
The stress-free gameplay combined with its competitive edge sets Shopping Cart Hero HD apart from other hyper-casual games. It's one of those fun games you can play in between work breaks or while waiting for your next class.
Show off your best tricks and become a shopping cart legend yourself! Are you ready to take on the challenge? Well, buckle up because Shopping Cart Hero HD is ready to take you on a ride!
Become the next hero of shopping carts - dive into this stickman game today!
What are the best online games?