Shooting Heads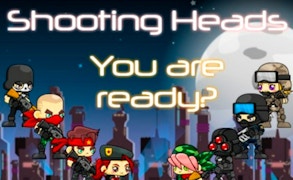 Shooting Heads
Step into the hard-hitting, adrenaline-fueled world of Shooting Heads, a deceptively simple yet intensely competitive 2D shooter game that redefines the realm of multiplayer gun games, battle games, and war games.
With a platform-type arena as our battlefield, we're plunged headfirst into a ruthless environment where strategy, skill, and a keen eye are your only allies. In this fierce world of war and rivalry, it's fight or flight - there's no room for the weak-hearted. Flying bullets and sudden death matches place you in the edge of your seat in anticipation.
Shooting Heads takes the essence of classic gun games, molds it with the high-octane thrill of battle games, and then packs it all into an immersive 2D world teeming with edgy action. The gameplay is fast-paced and aggressive - each moment pulsating with perilous potential.
The simplicity of its design belies its depth. It may be a stripped-back 2D shooter on the surface, but beneath lies a richly complex game that demands quick thinking and quicker reflexes. This is not just another one in the run-of-the-mill war games; this is a thrilling testament to strategic warfare.
In Shooting Heads, every bullet counts, every movement matters, every second is crucial. Amidst the chaos and carnage, it's your strategies that will make you stand out from the crowd in this brutal battle arena. So gear up, lock and load – The fight for survival begins now!
What are the best online games?