Shoot Paint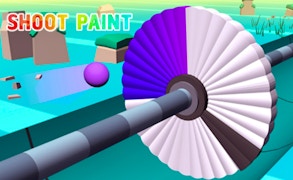 Shoot Paint
Delve into the vibrant world of Shoot Paint, an innovative addition to the Arcade games genre, seamlessly blending elements of coloring games, Hyper Casual Games, and ball games. Engage in this aesthetically pleasing combination of creativity, skill, and light-hearted fun that will have you hooked in no time.
The straightforward concept of Shoot Paint effortlessly draws players in. The magic begins with a simple tap, releasing a burst of color that drenches bland walls in a vibrant hue. Hold your tap for faster launch – but be mindful of those moving parts! This game transforms what could have been a monotonous task into an exhilarating journey where every choice matters.
This isn't just any run-of-the-mill coloring game; Shoot Paint offers a unique twist by integrating elements from Hyper Casual Games and ball games. With each launch, watch the balls as they break free and collide with plain canvases transforming them into works of art.
The dynamic nature of Shoot Paint keeps you on your toes, providing a measure of unpredictability that keeps you engaged. Immerse yourself in this interactive experience where strategy meets creativity. Do you have what it takes to paint the whole space without missing a beat?
The simple controls matched with challenging gameplay make Shoot Paint accessible for gamers of all skill levels. Whether you're looking to kill time or challenge your reflexes, this game has it all.
If you enjoy coloring games or hyper-casual games that keep your adrenaline pumping, then the immersive world of Shoot Paint must be next on your play list. So pick up your virtual paintbrush, channel your inner artist, and let the game begin!
What are the best online games?