Shoe Designer - Marie's Girl Games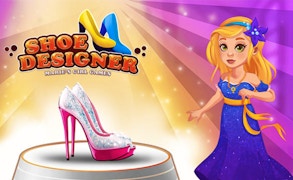 Shoe Designer - Marie's Girl Games
Step right into the glitz and glamour of high fashion with Shoe Designer – Marie's Girl Games. This enchanting journey into the world of haute couture footwear will leave young fashionistas completely hooked. This fashion game not only inspires creativity but also empowers young girls to design and express their own sense of style.
In Shoe Designer, one doesn't just play a game; they enter into an exciting design fest that doubles as an endless runway of fashion possibilities. Showcasing an incredible palette of patterns, hues, and materials to pick from, this unique dress up game pushes the boundaries of virtual style innovation.
The premise is fascinatingly simple yet utterly captivating: budding designers get to create three different pairs of shoes for three high-profile events. From casual chic sneakers for a beach party to ethereal stilettos for a red carpet gala, you are in control. Once your distinct creations are ready, you present them to a jury that evaluates your sense of style in this standout among games for girls.
The visual details in Shoe Designer are superbly brought to life with vibrant colors and vivid graphics, capturing every intricate detail from the lacey embellishments to the shiny acrylic heels. The shoe models are imaginatively diverse and represent various styles and trends around the globe.
In conclusion, Shoe Designer – Marie's Girl Games gives kids a delightful platform to manifest their inner shoe designer fantasies by mixing and matching various elements. Perfect for budding young designers or anyone who adores fashion, Shoe Designer is not just a game—it's a journey into the mesmerizing world of fashion where creativity takes centre stage!
What are the best online games?