Secret Inca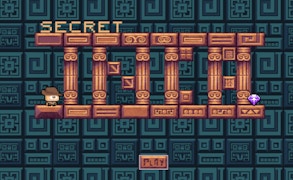 Secret Inca
Description
In Secret Inca, you become Jack, a fearless adventurer, journeying through enigmatic ruins of an ancient civilization in search of mystical Diamonds. Unearth the long-lost wealth and secrets of the bygone Inca Empire while navigating diverse terrains filled with perilous obstacles and formidable foes. This exciting platform game engages players with captivating visuals and challenging gameplay.
How to play
Controlling Jack involves simple arcade-game mechanics. Guide him with the arrow keys or WASD controls - these allow you to jump, duck, or move in any direction. Your goal is to maneuver through treacherous traps and hostile enemies while collecting as many Inca Diamonds as possible. The journey progresses as you uncover more diamonds and unlock further stages.
Tips and Tricks
Being observant is key in Secret Inca. Certain areas might not be perceivable at first glance but can contain hidden diamonds or traps. Time your jumps meticulously to avoid obstacles and study enemy movement patterns for safer navigation. Remember, patience can often pay off more than rushing through levels.
Features
Immersive adventure-based platform game set in the mysterious ruins of the Inca Empire
Intricate level designs enhancing exploration
A variety of challenging obstacles and enemies to overcome
Captivating graphics that add depth to your exploration experience
An engaging storyline that progresses with diamond collection
What are the best online games?