Searching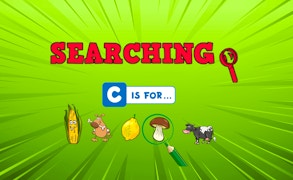 Searching
Description
In the fun-filled and challenging game Searching, your task is to spot images that contain a specific letter within a given time frame. As you venture through this exciting journey, every level presents a different letter to search for, captivating your attention and testing your quick observation skills. Searching is more than just a game; it's an exciting expedition into the world of alphabets!
How to Play
The controls of Searching are incredibly simple. When the game starts, you are given a particular letter to find in various images on the screen. You need to use your mouse or touchscreen to select these images within 30 seconds. The game gets more challenging as you progress - keep an eye on the clock and make sure you find all required images before time runs out!
Tips and Tricks
Familiarize yourself with the different types of imagery before diving in. Use your peripherals to scan across all images quickly instead of focusing only on one image at a time. Remember, speed is essential in Searching, but accurate selections are equally important. Balance your quickness with precision for an optimal experience!
Features
An unique concept that blends fun with learning.
A timer feature that increases excitement by adding a sense of urgency.
A variety of different letters and images to keep gameplay fresh.
An easy-to-use interface, making it accessible for players of all ages.
A wonderful way for children to familiarize themselves with alphabets and improve observation skills.
What are the best online games?