Seahorse Jump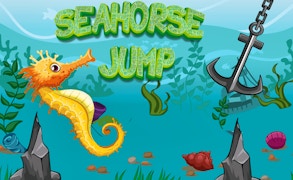 Seahorse Jump
Description
In "Seahorse Jump", you'll be immersed in an underwater challenge like no other. As a brave seahorse, your quest is to soar through the ocean currents, expertly dodging obstacles on your journey. This online game provides an entertaining escapade that's both relaxing and invigorating. The goal is simple; help the seahorse leap over barriers and arrive safely at the finish line, all while enjoying the tranquil underwater setting.
How to play
Playing "Seahorse Jump" is straightforward. Use your mouse or keyboard controls to guide your seahorse's jumps over the obstacles. Careful precision and dexterity are key as each jump can either propel you forward or be your downfall. Your progress in the game is determined by how far you can get without hitting any barrier; hence each successful jump moves you one step closer to victory.
Tips and Tricks
To excel in this game, perfect your timing as it is critical for successful jumps. Pay keen attention to the rhythm and pattern of each obstacle as they usually follow a certain pattern. Don't rush: sometimes, waiting for the right moment can prove more beneficial than speeding through.
Features
The following aspects make "Seahorse Jump" a unique gaming experience:
An engaging underwater setting for marine adventure lovers.
Ease of control with both mouse and keyboard options.
A multitude of challenging obstacles to keep players engaged for long hours.
A relaxing yet invigorating gameplay that helps relieve stress.
What are the best online games?