Save the Baby Home Rush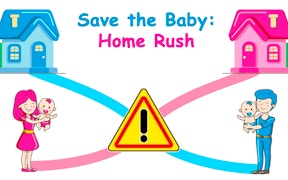 Save the Baby Home Rush
Description
In Save the Baby: Home Rush, you're called upon for a rescue mission. Guide a poor, lost child back to their mother in this riveting puzzle game. Navigate through a series of challenging levels filled with various obstacles by drawing paths. It's a test of strategy and creative problem-solving, set in an engaging, child-friendly environment.
How to play
To play Save the Baby: Home Rush, you need to draw lines on the screen which will guide the baby home. The path must be drawn strategically to avoid all obstacles that could harm the baby. Progress through the game is achieved by successfully guiding the baby through increasingly complex levels.
Tips and Tricks
Never rush while drawing paths, take your time to analyze obstacles and layout before starting. This will help you create the safest path for the baby. Always look out for shorter paths as longer ones may bring too many hurdles. Remember, protecting the baby is key!
Features
This game offers:
Friendly graphics and sound effects: designed to appeal to children and fun-loving adults alike.
Diverse levels: each providing a different set of challenges.
Gentle learning curve: gradually increases difficulty to keep players engaged and reward improving skills.
A unique twist on puzzle games: instead of traditional sliding or matching mechanics, players draw their own solutions.
What are the best online games?
Tags