Santamalon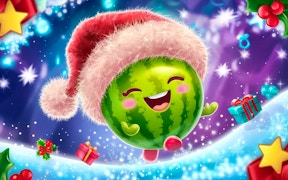 Santamalon
Description
Immerse yourself in the vibrant world of "Santamalon", a thrilling and addictive endless jump adventure game. You take on the role of a fearless Santa Melon, whose mission is to soar as high as you can. Navigating through different obstacles, each jump could be a leap towards topping the leaderboard. An engaging gameplay encourages strategic timing and precision.
How to play
To play, press the arrow keys or touch controls if on mobile to guide Santa Melon's jumps. Each successful jump boosts you higher in the sky. Aim for platforms and avoid falling or hitting obstacles. Every leap you make contributes to your overall score which determines your position on the leaderboard. Practice consistently for improving performance.
Tips and Tricks
An important hint is to keep an eye out for power-ups that can help propel Santa Melon further upwards. Beware of deceptive platforms that may cause you to fall. Developing a rhythm in your jumps can be beneficial for reaching greater heights. Keep practicing, as this game rewards perseverance.
Features
Addictive Gameplay: Challenging yet simple controls make it compelling and fun.
Leaderboard: Compete against players worldwide for the top spot.
Elegant Design: Vibrant colors and engaging characters add visually appealing elements.
Friendly for All Ages: The game is suitable for both young kids and adults.
Different Power-ups: Utilize power-ups strategically to boost your score.
What are the best online games?
Tags