Snowfight.io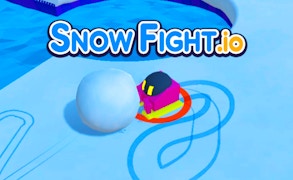 Snowfight.io
Welcome to the icy world of Snowfight.io, an enchanting expedition in the realm of christmas games that seamlessly blends the thrill of battle games and the engaging mechanics of ball games. It's a digital snow-globe, where you can unleash the child within and indulge in frosty frolics, while honing your strategic skills in an interactive winter arena.
In Snowfight.io, you aren't just lobbing snowballs like a run-of-the-mill park scuffle. Oh no! This game takes it several notches higher. It's about making your snowball bigger, taking opponents head-on and kicking them off from the snowy battlefield with sheer skill and tactics. The essence of traditional skill games is wonderfully encapsulated within this entrancing snowy spectacle.
The captivating design of Snowfight.io fosters a perfect atmosphere for a Christmas showdown, with crisp graphics that truly make for an immersive experience. In this wild winter wonderland, you'll find yourself tiptoeing around ice patches, hunkering down behind frosty fortresses, and constantly re-strategizing as you become an even more formidable snow warrior.
But what makes Snowfight.io stand out among other IO games? Its simplicity! The rules are straightforward: create massive snowballs and use them as projectiles to oust adversaries. But don't be fooled by this simplicity, as every battle requires quick thinking and nimble fingers.
In conclusion, if you're on a lookout for unique christmas games, or if you yearn for a thrilling battle game, or maybe just fancy boosting your skills with some rousing ball action; look no further than Snowfight.io. It's festive fun meets strategic combat - poised to offer plentiful hours of frosty enjoyment!
What are the best online games?