Santa Haircut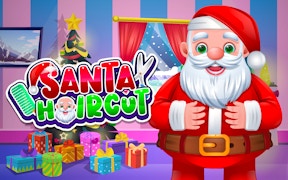 Santa Haircut
Prepare to dive into the heart of Christmas magic with Santa Haircut, an enchanting addition to the ever-popular genre of kids' dress up games and hairdresser games.
This delightful game offers a heartwarming holiday twist that makes it stand out among other games for girls. In Santa Haircut, it's not just any regular client walking into your salon – it's everyone's favorite jolly, bearded, gift-bearing icon: Santa Claus himself!
Chaos befalls as Santa steps into your salon, showcasing his unruly mane that quite frankly, is messier than a blizzard! Your mission, should you choose to accept it, involves transforming messy Santa into a suave Saint Nicholas ready to charm the globe as he embarks on his annual Christmas journey. With a wide variety of scissors, razors, blow dryers and an array of vibrant hair dyes at your disposal, this game truly empowers you to express your creativity and imagination.
The fun doesn't stop at hairdressing either! As soon as you've gotten his hair in tip-top shape, you get a chance to dress him up too! From his traditional red suit to funky alternatives like a sparkly purple suit or an old fashioned green robe - the choice is yours! This feature adds another layer to Santa Haircut, making it not just fun but also dynamic. The high level of interactivity sets it apart from many other Christmas games on the market.
Santa Haircut implores players to experiment with different styles and looks for Santa, resulting in hours of laughter-filled entertainment. Bursting with Christmas spirit and creativity-inspiring gameplay, this game is guaranteed to keep young players hooked from beginning till end. Experience the joy of holiday grooming with Santa Haircut!
What are the best online games?