Santa Gravity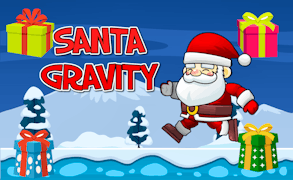 Santa Gravity
Description
In Santa Gravity, you're set on a thrilling Christmas mission. As Santa, you are tasked to gather as many gifts as possible using the force of gravity. Beware, space is filled with obstacles to hinder your progress. Navigate this perilous environment and make sure every child wakes up to presents under the tree.
How to Play
The game is all about navigating and controlling gravity. Use your keyboard arrows or touch screen controls on mobile devices to move Santa around the screen. The obstacles get trickier as you progress through the game, but don't worry! Every gift you collect will help you survive a little longer.
Tips and Tricks
Timing is everything: Remember that gravity is your friend, but it can also be your downfall. Keeping a keen eye on your momentum is important for avoiding obstacles. Also, be strategic about when and where you collect presents; sometimes it's better to bypass a present if it means avoiding a crash.
Features
Addictive Gameplay: The more you play, the more thrilling and challenging the game becomes.
Skill-based Scoring: Your survival depends heavily on your skills in maneuvering Santa around obstacles.
Festive Theme: Enjoy a unique Christmas-themed game that's perfect for spreading holiday cheer.
Suitable for All Ages: A fun-loving experience that gamers of all ages can enjoy.
What are the best online games?