Santa Claus Adventures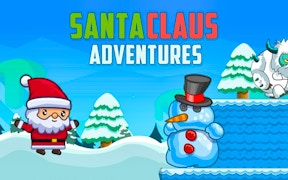 Santa Claus Adventures
Welcome to the captivating world of Santa Claus Adventures, a spellbinding mix of fun and skill in a delightful Christmas themed landscape. This title is a shining gem among Christmas games that offers an engaging experience not only for kids, but also for those young at heart.
The objective of Santa Claus Adventures is simple yet challenging. Players accompany Santa on an adventurous journey, collecting colorful balls amidst perilous obstacles. With each tap of the screen, you control Santa's movements as he soars across the winter scenery. This game effortlessly combines elements from both skill games and fun games, resulting in an exceptional gaming experience.
Featuring 20 levels teeming with vibrant graphics and intriguing challenges, Santa Claus Adventures keeps you glued to your screen. The attractive aesthetics coupled with the captivating background music aptly convey the Christmas spirit, making it an ideal choice among holiday-themed skill games. From dodging dangerous icicles to swooping down for glittery baubles, every level presents a new set of challenges, ensuring replayability and hours of fun.
Without a doubt, Santa Claus Adventures is a game that sets itself apart from other Christmas games in its league. The combination of striking visuals, challenging gameplay mechanics, and endearing story make it a must-play this festive season.
In conclusion, whether you're looking for skill games to enhance your precision or fun games to brighten up your holiday mood, Santa Claus Adventures has got you covered. So why wait? Embark on this festive adventure with Santa Claus and cherish the magical journey that awaits!
Remember: if you're after
Christmas games
, look no further than Santa Claus Adventures - where adventure meets festivity!
What are the best online games?