Santa Chase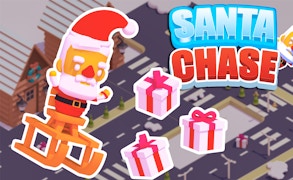 Santa Chase
Description
In Santa Chase, you get to experience the thrilling holiday spirit in an entirely new way. This arcade game, set against a snowy landscape, tests your reflexes and decision-making skills as you tackle various missions. Your task is to help Santa build a gift train while evading the police. The longer your gift train, the higher your score!
How to Play
To play Santa Chase, use your keyboard arrow keys or the touch screen controls to steer Santa's vehicle. Collect as many gifts as possible to extend your train while avoiding obstacles and police cars. The game progressively gets difficult, challenging your agility and quick-thinking abilities.
Tips and Tricks
Keep an eye on the map for upcoming turns and potential gift locations. Prioritize extending your gift train but know when to dodge obstacles rather than risk losing gifts. Remember, avoiding police cars is just as important as collecting presents!
Features
Christmas-themed interface with engaging graphics and sounds.
Different levels with unique challenges and dynamic gameplay.
Intuitive controls suitable for all age groups.
Highly competitive with leaderboards for top scores.
What are the best online games?