Russian Trucks Differences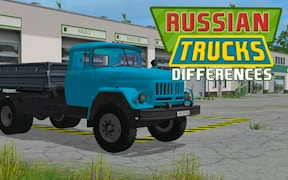 Russian Trucks Differences
Step into the exhilarating world of Russian Trucks Differences, a compelling addition to the realm of puzzle car games and truck games. This brain-stimulating title stands out in the diverse universe of memory games, honing in on the strength and majesty of Russian trucks while simultaneously challenging your observation skills.
One cannot help but be captivated by the sheer, raw strength of these Russian beasts. But beyond this façade lies an intellectual challenge that makes this game more than just a visual treat. As you explore these beautiful vehicles, you will notice that behind their picturesque imagery lie tiny, well-hidden discrepancies waiting to be discovered. Each level in this brain game brings forth a fresh set of seven differences camouflaged cleverly within the intricate design of these glorious machines.
This is no aimless quest though. You have precisely one minute to pick out these subtle differences for each level. Therein lies both the challenge and charm of Russian Trucks Differences. A ticking clock, a keen eye, and a heart thumping with anticipation; every minute spent is an adrenaline-fueled joyride making it one hell of a memory game!
Whether you are an ardent fan of car games or are new to the genre, Russian Trucks Differences offers an immersive experience that will tickle your senses, stretch your patience and push your concentration abilities to their limits. It's not just a puzzle game; it's a brain game that adds depth to your cognitive abilities whilst delivering unadulterated fun. This unique blend makes it one of the best memory games around!
Ready for an exhilarating mental workout? Enter the world of high-powered Russian trucks; switch gears in your brain from idle to overdrive and discover what makes Russian Trucks Differences such an irresistible pursuit amongst truck games.
What are the best online games?