Russian Niva - HexagoN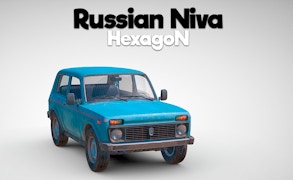 Russian Niva - HexagoN
Description
Experience the thrill of survival racing in Russian Niva - HexagoN. The game sends you on an adrenaline-pumping journey, with seven robust Nivas battling it out in a rigorous race. The last one standing secures victory. Each fall brings you closer to defeat, but survival gives you another chance at success. Embrace the challenge and outlast your competition.
How to Play
The game's controls are simple but mastering them can be tricky. Use the Arrow keys for movement and dodging attacks. The Space Key is used for jumping, adding unpredictability to your driving strategy. For mobile users, convenient touch controls are available. Outlasting your opponents requires quick decisions and clever maneuvers.
Tips and Tricks
In Russian Niva - HexagoN, knowing when to jump can be pivotal. Use jumps to evade opponents or surprise them with unexpected moves. Always keep an eye on the other players and anticipate their moves for effective counter-strategies.
Features
Exciting survival race with tough competition.
User-friendly controls suitable for both desktop and mobile users.
Engrossing gameplay that places a premium on strategy and timing.
The joy of racing brought alive by a visually appealing interface.
What are the best online games?