Run Rich Challenge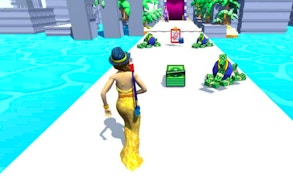 Run Rich Challenge
Fasten your seatbelts and prepare to dive into the intense, interactive world of the Run Rich Challenge, a tour de force in the realm of Hyper Casual Games that keeps you engrossed with its compelling gameplay elements. This game is a perfect blend of adrenaline rush, entertainment, and an old-fashioned quest for affluence.
If fun-filled, engaging Running Games are your jam, then Run Rich Challenge is a veritable treasure! Picture yourself at the absolute bottom rung of the financial ladder, striving your best to hustle and ascend. Your only way up? By vigorously collecting money items scattered across your path. With every bill and money bag you manage to seize, you'll find yourself climbing steadily and rapidly up towards prosperity.
The game is not just about running - it's about transforming! With each money item you collect, your character evolves from rags to riches, swapping their drab attire for swankier outfits that speak volumes about your newfound wealth. The exhilarating chase for fortune in Run Rich Challenge is beautifully animated with crisp graphics and swift gameplay mechanics that make this one of the most enjoyable Fun Games.
This isn't just another run-of-the-mill arcade-style game. It's a tale of dreams coming true. It's a journey where perseverance meets opportunity. It's an inspiring story where every collection can change destiny. So buckle up for this rollercoaster ride and witness how the pursuit of wealth can style up life!
Say hello to the new rich version of you! You're not just playing a game - you're accepting a challenge; the Run Rich Challenge. So get ready, grab all the cash you can and remember - in this world, fortune favors the bold!
What are the best online games?